Career Developments Magazine
Career Developments, the NCDA quarterly magazine for members-only, is a themed publication offering articles that balance a broad vision with practical applications. Each issue offers a focused article on a select theme, a feature article on a prominent NCDA event, and specific content for departments that match the work settings of members.
In response to requests for "going green," the print magazine is now available to all NCDA Members in a digital format. We understand that many members enjoy holding the printed magazine in their hands after receiving it their mailbox. The print format is still available as a membership option. Those in the United States may opt to receive the print version, at no additional charge. Those from outside of the US may elect to receive a print copy for $15 annually. Please make your selection for print during your membership renewal process by using the membership form or accessing your profile under Members Only. Questions about this change may be directed to dpenn@ncda.org. We hope you enjoy the new digital option as part of your membership benefits!
"Advocating for Work-Related Legislation"
Fall 2023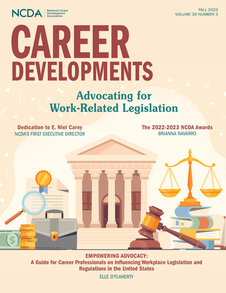 Table of Contents
Focus
Empowering Advocacy: A Guide for Career Professionals on Influencing Workplace Legislation and Regulations in the United States
By Elle O'Flaherty
Feature
The 2022-2023 NCDA Awards
By Brianna Navarro
Departments
School Counselors
Preparing Students for College and Career, Beyond the Affirmative Action Ruling

By Terainer Brown
Higher Education Highlights
Navigating Higher Education Advocacy
By Elle O'Flaherty
Columns
From the President:
Career Development Work is Social Justice Work
By Lakeisha Mathews
From the Executive Director:
NCDA's Commitment to Advocacy
By Deneen Pennington
Thought Leaders Insights:
A Conversation with Michael Pham
By Jenn Leard

NEW! In the States:
Maryland Career Development Association Virtual Conference a Success!
By Sujata Ives
Ethics in a Nutshell:
Racial and Gender Discrepancies in Medicine: An Exploration of Legal and Ethical Considerations
By Sarah Patterson-Mills, Lauren Mills and Brooke Mills
On the Web
By Melanie Reinersman
The Marketplace
Career Counseling in the One Stop Career Center System
By Charles Lehman
Save
Save
Save
Save
Save
* The magazine is a members-only benefit - would you like to join now?
Each issue is only available for 3 months (until the next issue is released). Please download now. Issues are not archived.