Why & How to Advocate
Why Advocate?
You have probably heard someone say, "Politicians won't listen to an average citizen." Or perhaps something along the lines of, "Politicians just like to sit around and argue with each other – they're completely ineffective." Maybe you've even said these things yourself. After all, it's accepted conventional wisdom that politicians are corrupt and government is broken.
In truth, the most common phrase you hear in any elected official's office is "how does this connect to my constituents?" In other words, elected officials DO listen to people in their communities – and the conflicts within and among these communities account for much of the debate and acrimony demonstrated in a legislative organization.
This is exactly what the Congressional Management Foundation found is a recent study of Congressional staff. When asked what influences a legislative decision, a visit from a constituent was number 1. Numbers 2, 3 and 4 were other personalized communications from constituents, such as letters and phone calls. A visit from a lobbyist was number five.
Learn more about the study (and the power of citizens) by reading "Communicating with Congress". 
Read on to learn how to use this power effectively! Know Your Elected Officials
Tips for Engaging and Following Up
Build a relationship with your Member of Congress. Start with a letter or call. Decide on one specific topic that you would like to address. If you call, speak with staffer that works on issues pertaining to career development. If you send a letter, make sure that it is original and not a form letter. For both means of communication, explain your issue and ask for the Member's position on the issue. Be succinct and courteous with both means of communication.
Always follow up with a thank-you letter. Members of Congress remember constituent engagement. In the thank-you letter it would be appropriate to ask for an update on the issue you previously addressed with the Member.
The personal visit is the most effective communication with a Member of Congress. The personal visit by a constituent and the issue presented usually receives a higher priority. The time and expense you have put forth to meet with your Member of Congress is one that is taken seriously. If you can't go to Washington DC, you can also contact their district office to find local events where you can meet their member on local staff. On specific issues, it is important to contact the DC staff as they are often the subject matter experts.
Be Honest. Your credibility is priceless. If you lose it, you will never get it back. Know what you are talking about. If you don't have an answer to a question regarding the issue, then let the Member know you will get an answer and provide it to staff
When addressing your issue, present your facts and points succinctly and quickly, then listen to your Member's response. The idea is to establish a dialogue on not only this issue, but laying the foundation for engagement on future issues.
Whether it is the Member or a staffer, be prepared for pushback if you know the office has an opposite view on an issue. Don't let it rattle you, don't back down, but also don't be too aggressive or heated in your response. Remember that the benefit of your feedback is that you're not the only one and the cumulative impact of you and others reaching out is what will move the needle.
If the Member is unable to meet with you and staff is assigned to cover, consider the staff person to be the eyes and ears of the Member. Staff can vary in age but that it doesn't mean they are not knowledgeable on a subject.
Ask for a commitment of support from the Member, but do not threaten.
Provide a one-page fact sheet that recaps the points of your issue to be addressed
End the meeting on a positive statement, especially with a "Thank You"
Follow up with a written thank you, providing any information to questions posed by the Member or staff.  Indicate that you will be monitoring the issue and will provide any updates to the Member.
Schedule a follow up communication to ascertain what action the Member has made regarding the issue. Let your state reps and the NCDA Government Relations Committee know of your efforts and outcomes to aid in the national coordination of outreach promoting NCDA and career development services for all.
Visit the official website for more helpful tips: Congress.org
Tell Your Story
The SPIT Technique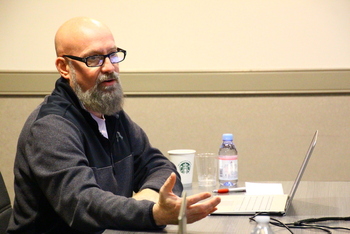 You'll want to "SPIT" out your advocacy message. SPIT is, of course, an acronym and stands for:
S = Specific in terms of what you want and what the audience wants
It is essential that you know what you want and be able and willing to ask for it. You should also look for ways to connect your "ask" to what the audience wants. Your research into the perspectives and interests of your audience will assist you.
P = Personal
You attract people to your cause through a compelling story. We know through a story that the thing we're talking about has had, or will have, an impact on an actual human being. How has your work helped someone find a job or, better, a career? What have you done to improve people's lives in your community? How have you helped boost economic development and prosperity?
I = Informative
In addition to telling your personal story, you'll want to wrap some facts and figures around your argument. The National Career Development Association's recent Survey on Working America can give you some valuable information
T = Timely
Clearly, contacting a decision maker AFTER a decision has been made rarely works, and it's equally ineffective to contact a decision maker too early. Circumstances may change around your initial contact and the time of the decision. Your job is to build a relationship with them over time so that when the issue does come up, your specific ask is a "no brainer."
Use the following message formula to pull all these elements together. You can use this in a meeting or convert to a written communication or phone call.
My name is and I'm from [establish relevance by clarifying that you are a constituent]
I am here to ask for [specific ask]
Knowing of your interest in [specific to the audience], I think you'll be interested too
This is important to the people I represent because [personal story and information]
That's why I hope you'll [specific ask]
I'd like to follow-up by [date]. When can I get back to you?
Resources:
10 Tips for Effective Messages - this powerpoint offers details you to deliver your message to a decision-maker.
Developing and Telling Your Story:
Here are some questions / ideas to help you develop your personal story. Writing your answers down or discussing them with a colleague can be very helpful.
Why did you become an advocate?
How do the issues you are discussing impact you directly?

Do they cost you money?
Do they impact your health or the health of loved ones?
Do they conflict with your organization's core mission?
Do they impact your ability to do your job?

Do you have clients / customers / friends / colleagues that offer a compelling story? Have they:

Benefited from your services?
Contributed to your cause?
Joined your campaign because of their own strong views?

How do these people and others connect to the Congressman's district?
Take a few minutes to weave these questions into a story / anecdote.