EXHIBIT HALL & SPONSORSHIPS
The NCDA Global Career Development Conference welcomes exhibitors and sponsors from public and private corporations, government agencies, educational institutions, and professional associations who offer career-related products and services such as books, media, computer-based systems, assessment instruments, and online services.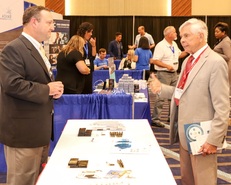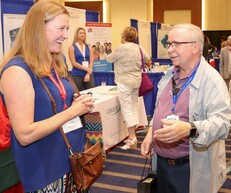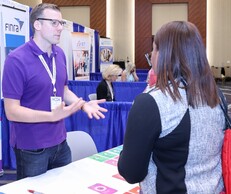 QUESTIONS? View the FAQs or contact:
Alicia Cheek
Exhibits/Sponsorship Coordinator
305 N. Beech Circle
Broken Arrow, OK 74012
Phone: (918) 663-7060
Fax: (918) 663-7058
acheek@ncda.org
---
2022 Exhibitors
Booth # 101
Ducere Global Business School
Contact: Caroline Raffi
caroliner@ducere.education
(310) 882-3919
https://ducere.education
At Ducere Global Business School our mission is to provide access to world class education to all! We design and deliver the most industry and career relevant degrees, in collaboration with hundreds of the world's leading business, political and philanthropic leaders. All degrees are formally accredited and are tailored to individuals career goals, making a Ducere MBA one of the best strategies to enhance career success. Flexible entry options and extremely affordable tuition.

Booth # 103
Uni-Cation
Contact: Vanessa Gamet
vanessa@uni-cation.com
(206) 495-5982
www.uni-cation.com
Uni-Cation connects students to companies throughout their entire academic journey to encourage, motivate and mentor students into meaningful careers. We offer the space to provide critical industry knowledge and career advice to students, all while earning credit towards tuition.

Booth # 105
Resume Scripter
Contact: Andrea Gerson
agerson@resumescripter.com
(917) 733-0199
rsworks.careers
Resume Scripter's RS Works platform helps career counselors quickly create personalized resumes for their clients. Make your clients more competitive by automatically highlighting critical details about the impact of their experiences. You've seen generic resume builders. Instead, RS Works builds completely tailored resumes to get your clients hired in higher-paying roles.

Booth # 107
SparkPath
Contact: JP Michel
jp@mysparkpath.com
(613) 804-7284
https://mysparkpath.com
The Challenge Cards, created by SparkPath, help students explore real-world challenges, instead of limiting themselves to job titles. Launched at the NCDA Conference in 2017, there are now over 25,000 decks of cards in use around the world.

Booth # 109
Peak-Careers Consulting
Contact: Jim Peacock
jimpeacock@peak-careers.com
(207) 619-2720
https://Peak-Careers.com
Peak-Careers Consulting offers professional development for career practitioners. We provide online discussion-based seminars, workshops, the Facilitator Career Development (FCD) class, and weekly career emails. Our unique online seminars are engaging, discussion-based with like-minded career practitioners. Approved provider by NCDA.

Booth # 111
Balanced Card Sorts
Contact: Anush Hansen
anush@kennebunkcounseling.com
(207) 494-4040
balancedcardsorts.com
Balanced Card Sorts® is committed to helping people move from burnout to balance by giving them tools to identify and prioritize their needs. The Work-Life Balance Card Sort is a simple, engaging and powerful resource for helping your clients, students or employees discover wellness and live by their values.

Booth # 113
SkillScan
Contact: Lesah Beckhusen
lesah@skillscan.com
(925) 939-8997
www.skillscan.com
SkillScan offers two innovative online transferable skills assessments: Drive and Express. The client report includes a profile of their greatest strengths and links to relevant career options, skill development activities, and supplemental resources to integrate with Holland, Values, and Jungian themes. SkillScan provides a complete career assessment solution for your clients.

Booth # 115
EdITs
Contact: Lisa Lee
service@edits.net
(619) 222-1666
www.edits.net
The COPSystem VIA by EdITS offers the premiere online evaluation of values, interests, and abilities. Results provide access to in-depth information and local job posting through Indeed.com. The COPSystem offers valid, reliable and wells research results to help clients explore career options and reach their career goals. Visit our booth to access an online trial.

Booth # 200
Be The Change Solutions
Contact: Ronda Ansted
ronda@bethechangecareers.com
(301) 875-1298
https://www.bethechangecareers.com
Be the Change Solutions provides workshops and the tool My Career Design Studio™ to job seekers, private practitioners, and organizations. My Career Design Studio is the first, robust online career coaching tool based on career development theory, positive psychology, and gamification that includes assessments and over 30 career development activities.

Booth # 201
Guided Compass
Contact: Creighton Taylor
creighton@guidedcompass.com
(323) 620-9668
Guided Compass is a black-owned, lifelong, personalized career advising and recruiting assistant. The platform helps career-seekers onboard into fulfilling careers by empowering them and their educators/advisors with a supportive community, labor market intelligence, educational opportunities, and work opportunities from middle school to adulthood.

Booth # 202
Type Focus Internet, Inc.
Contact: Dave Wood
dave.wood@typefocus.com
(250) 477-6179
https://typefocus7.com
TypeFocus Careers Program increases student success and therefore retention by helping them choose a good career path based on your OWN majors. This program contains five assessments, NACE career competencies, at-risk student assessment, and employability skills. TypeFocus Find Your Match Program has been proven to increase your student recruitment numbers.

Booth # 203
Bring Your 'A' Game
Contact: Chris Carman
ccarman@bringyour-agame.com
(303) 433-3243
https://workethic.org/curriculum/
Help your job seekers develop their workplace skills in person or online with Bring Your 'A' Game - The curriculum builds the seven foundational skills of Work Ethic that employers demand. By demonstrating their mastery, participants can even earn their Certificate of Work Ethic Proficiency! Find out more at www.BringYour-AGame.com.

Booth # 204
OneLifeTools
Contact: Mark Franklin and Lucy Welsh
mark@onelifetools.com service@onelifetools.com
www.onelifetools.com
OneLifeTools is a leading creator of interactive, story-based programs that blend virtual group conversations and individual reflection. Our tools promote personal/career growth and team building, either virtually with Conversations Matter or in-person with our Who You Are Matters! game. Embed evidence-based narrative tools into your programs & courses.
Booth # 205
AllSumJobs
Contact: Jenny Xu
jen@allsumjobs.com
(626) 400-9928
https://www.allsumjobs.com/
AllSumJobs is an online subscription platform that provides supplemental materials for career centers to assist students with career exploration and interview preparation through a library of training courses, ready-for-use resume templates and database of occupational information.

Booth # 206


Booth # 207/209
US Army Recruiting Education Outreach
Contact: Ina Tyler
ina.j.tyler2.civ@army.mil
(502) 626-1981
www.goarmy.com

Booth # 208
Vault | Firsthand
Contact: Tara Williams
events@vault.com
(212) 896-4337
Vault | Firsthand the leader in career intelligence for colleges and universities, providing internship, industry, company data, and insights, as well as access to personal mentors and virtual career fairs. Students and alumni can find advice and videos on resumes, interviews, networking, and more to help them launch their careers.

Booth # 210
Geographic Solutions
Contact: Megan Aderele
maderele@geosolinc.com
(727) 786-7955
https://www.geographicsolutions.com/
Geographic Solutions is the leading provider of online employment software for state and local workforce agencies in over 35 states and U.S. territories. The company's Virtual Career Center solution is a career exploration tool that guides students to success through assessments, education and training, internships, job search, and more.
Booth # 211
Infinity Boutique
Contact: Debbie Rasmussen
infinityboutique3355@gmail.com
(702) 883-0398
https://elevareskin.com/
Infinity Boutique is a skincare/anti-aging/led device company that has been in business for 6+ years.

Booth # 212
Booth # 213
California Coast University
Contact: Nicholas Cheshire
ncheshire@calcoast.edu
(714) 547-9625
www.calcoast.edu
California Coast University's mission is to offer quality, affordable, flexible, online undergraduate, and graduate educational programs that are valuable both personally and professionally to our students. With programs that are comprehensive, current and supported by qualified faculty and staff, we are committed to keeping pace with the needs of an everchanging marketplace.

Booth # 214
Wingspans
Contact: Lindsay Kuhn
lindsay@wingspans.com
(310) 967-1841
www.wingspans.com
Wingspans is a career platform that helps students find a pathway that leads to a good job by showing them real people from similar backgrounds succeeding in their career paths. Our platform has 700+ diverse and compelling first-person stories, including videos, that bring career choices to life.
Booth # 215
Careers By The People
Contact: Mike Wysocki
mwysocki@answerpress.com
(310) 502-6044
www.careersbythepeople.com
Careers By The People is an upcoming book by Mike Wysocki. The book profiles 101 different occupations ranging from CEO to Bee Keeper each written by the people from that profession. The chapters are divided into a modern-day Holland Occupational Themes. Moreover, Wysocki includes his own humorous career obstacles.
Booth # 300/302
Working Wardrobes
Contact: Bianca Herrera
biancah@workingwardrobes.org
(714) 313-5749
www.workingwardrobes.org
Working Wardrobes is a workforce readiness nonprofit, serving at-risk populations in Orange County since 1990. We provide workforce readiness services, job training, job placement assistance, and wardrobe services to overcome barriers to employment and achieve the Power of a Payment (tm). Your generous donations will help clients achieve the dignity of work.

Booth # 304
NCDA Credentialing Commission
Contact: Tina Peterman and Jessica Worny Janicki
tpeterman@pdx.edu and jwj@jwjconsultingllc.com
(918) 663-7060
https://www.ncda.org/aws/NCDA/pt/sp/credentialing_home_page
Questions about Credentialing? Come visit the NCDA Credentialing Commission's booth to learn everything you need to know about credentialing, but were afraid to ask! Our credentialing commissioners will be at the ready to "talk shop" about the application process, continuing education, credentialing standards, publications, and so much more.

Booth # 306
California Career Development Association
Contact: Kegan Barroso
ccda.secretary1@gmail.com
www.ccdaweb.org
CCDA has been a well-established State CDA for 20+ years. We provide our members CEU-granting professional development events, community-building opportunities, and an Annual Conference. Our 2022 conference was titled: Theory to Practice in Career Development Resilience and Equity Work. Stop by our booth and we would love to connect!

Booth # 308
NCDA Training and Education Council
Contact: LeAnn Morgan
mpowell@ncda.org
https://www.ncda.org/aws/NCDA/pt/sp/council
Stop by the NCDA TEC booth to visit with Council members about the NCDA Facilitating Career Development Training Program and the School Career Development Advisor Program. These programs provide strong foundational career development skills to assist others in planning their careers. TEC members will be available to answer questions about the training program and instructor training programs.


Booth # 310/312/314
NCDA Career Resource Store
Contact: Natalie Scrimsher
nscrimsher@ncda.org
https://www.ncda.org/aws/NCDA/pt/sp/store

Fulfilling an important part of NCDA's mission, the Career Resource Store offers a variety of publications to support the work of diverse professionals in the field of career development. These quality products include books on assessment, cultural competence, experiential activities, and more. The monograph series is highlighted by the newest publication on coaching. Fill your suitcase, save shipping fees, and use your $5 off coupon at the conference bookstore!

VIRTUAL ONLY BOOTHS


Grand Canyon University
Contact: Terral Schell
(909) 327-8808
terral.schell@gcu.edu

Take the next step in your career by earning your doctoral degree from Grand Canyon University (GCU). Our College of Doctoral Studies offers several doctorate programs, from a Doctor of Business Administration to an online EdD in leadership or PhD studies in psychology. Learners in the doctoral studies programs apply their research, critical thinking and analytical skills to solve real-world problems in areas such as business, leadership, and psychology.


GS Consultants
Contact: Noreen Sandino
(415) 661-8227
info@gsconsultants.net
www.gsconsultants.net
GS Consultants offers Certification Training, Workshops and Program Development Consulting on career development and academic advising applications of the Strong and MBTI instruments.

We invite you to join the 12,000+ Career Development Professionals who have been trained by GS Consultants over the past 40+ years. We look forward to working with you as you learn about the Strong and MBTI assessments. "
Strong Interest Inventory'' is a registered trademark of The Myers-Briggs Company. MBTI and Myers-Briggs Type Indicator are registered trademarks of the Myers-Briggs Type Indicator Trust
Vocational Evaluation Forensic Certificate of Auburn University
Contact: Emma Quadlander
(334) 844-2109
forensicrehab@auburn.edu
The Vocational Evaluation Forensic Certificate program is a short-term training certificate that exists for professionals and paraprofessionals who desire to work in the field of vocational rehabilitation. This certificate incorporates current knowledge and training on societal trends in the areas of economics, forensics, employment, and evaluation, serving to enhance and improve students' education, ultimately leading to greater employment for individuals with disabilities.
---