02/01/2023
Later Chapters with Roger Lambert
By Rich Feller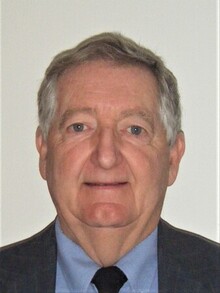 Roger Lambert says his career was developed through happenstance. Those serving on the NCDA Board during his tenure saw him create an intentional path for many of NCDA's most far-reaching advances. He uniquely brought a systemic lens and business acumen that advanced NCDA's budgeting process and goal setting toward a model driven by providing additional and need-based services, technology integration, and expanded products to non-members to create a significant reserve NCDA fund to sustain NCDA's future.
As a National Career Development Association (NCDA) former president, Roger become involved in the counseling and career development preparation in a non-traditional way. Many might be surprised to learn about his Agriculture degrees, national leadership around NOICC's largest projects, and extensive administration experience. However, his accomplishments, as well as his pride in his family, are not surprising. With great humility and egoless style, his inspiration led to the founding of NCDA's web magazine, Career Convergence, creating targeted practitioner trainings, and novel outreach efforts to promote NCDA. On the 20th anniversary of Career Convergence, it is only fitting to interview Roger to learn of all the chapters in his life.
This is the ninth interview within the Career Convergence series on experienced NCDA leaders as they offer insights about their "later chapters" and navigating a lifetime of transitions. This project hopes to add to the knowledge base of ageless aging, transitions, and questions critical to developing career development leaders.

How Did It All Begin?
A chance encounter with my high school superintendent influenced my life's work when he said, "You should go to college; you would make a good teacher." I never thought about being a teacher. Little did I know, this kind of "happenstance" encounter would become a common theme in my future.
An unplanned meeting with the Dean of Agriculture at River Falls State Teachers College turned out to be another life changing event. Despite my objections about going to college, an unplanned meeting with the Dean led to the Dean paying my college registration fee. I thought he wasted his ten bucks, but "happenstance" intervened and in the fall, I was enrolled in Agriculture Education.
Later, while teaching high school agriculture, I was able to upgrade the Ag program with the support of the School Board taking it from less than 50 boys to 180 girls and boys enrolled in an array of Ag production and Agri-business classes. I also became interested in pursuing more education, specifically a Master's degree then a doctorate at Michigan State University.
What helped you gain your voice in the field?
I took a position as Administrator of Research and Development at a Wisconsin Vocational/Technical District where I developed plans for a new campus as well as plans for new career programs. One day, "happenstance" popped up again. A colleague tossed a letter on my desk: the University of Wisconsin-Madison was looking for an Associate Director for the later named Center on Education and Work. To humor my friend, I called the Center. I got the job and spent the next 27 years at the Center where my opportunity to be immersed into career development occurred. I obtained a U.S. Department of Labor grant which funded the Wisconsin Career Information System and propelled myself and the Center into mainstream career development. I was also aware of the importance of state and national professional organizations. As a life member of the Association for Career and Technical Education and active in the Guidance Division, I was connected to vocational guidance experts and career counselors. Joining NCDA and our state career development association bolstered my access to career development theory and practice. My background in curriculum development and involvement in professional career development organizations made me aware of the need for teaching and learning materials for counselors, teachers and students. At the Center, I developed numerous teaching and career counseling materials for staff and students. To provide in-service education, the Center established the Careers Conference which attracted up to 1500 attendees annually from the Midwest and the nation. Later, I took on leadership roles at the national level, including NCDA and being actively involved in establishing the Association of Computer-based Systems for Career Information and becoming its second President.
Who influenced you?
Everyone I met in life has influenced me. I have learned that everyone has something to offer, and it was up to me to sort it out and make use of it.
While the Center on Education and Work established a state and national reputation for career development, "happenstance" propelled me into a larger national role in career development. I received a call from Lee Richmond, then President of NCDA. The association's Treasurer had resigned, and Dennis Engels (NCDA President 1995-1996) had recommended I complete that term. I remained on the Board for several terms and served as NCDA President in 2001-2002.
Attributing my career path to what I had internally thought of as "opportunistic happenstance", it wasn't until 1999 that John Krumboltz and others at Stanford University developed a career theory along this line called "Planned Happenstance." My work road through life wasn't planned, but rather was an opportunistic response to events that I had no prior knowledge of or control over. Whatever success I may have had can be attributed to preparedness and acting on happenstance.
What have you learned from fear, self- doubt, confidence and power?
Fear and self-doubt limit options. Confidence and power provide the capability to do good. Leadership uses power sparingly to influence and provide direction. My vision of leadership for career development was to be an enabler. My goal was to make it possible for individuals and organizations involved in career development or delivery of career counseling services to effectively carryout their work role. I believed this could best be accomplished by providing environments where all have a voice in creating a shared vision, by providing resources to carry out the work, by providing assistance and encouragement and by staying out of the way so success is attributed to those doing the work.
In hindsight, what opportunities might you have taken?
I would have pursued becoming a Wisconsin Technical College President if I had not been handed the letter that prompted my call about my next job. Or maybe I would have stayed in agriculture and on the farm!
What is ahead for you and how is your biological clock impacting your future?
After 21 years in retirement, my energy and interest in impacting the entire field of career development has shifted to assisting my grandchildren and other family members achieve successful careers.
What advice do you have for young professionals?
Prepare yourself with education and experience in the event happenstance occurs. Have the self-confidence to act on it.
What do you want to be your legacy?
Together, we improve the lives of young people and adults by providing quality career development resources and services.
---

Rich Feller, Ph.D, LPC, JCTC is a former NCDA President, Professor of Counseling and Career Development and University Distinguished Teaching Scholar Emeritus at Colorado State University, recipient of the NCDA Eminent Career Award, Co-founder of Onelifetools and Advisor to YouScience. Contact Rich.feller@colostate.edu and www.richfeller.com
---
Read all nine articles in this series by searching Career Convergence archives for "Later Chapters".
3 Comments
Disclaimer: The opinions expressed in the comments shown above are those of the individual comment authors and do not reflect the views or opinions of this organization.
---