05/01/2019
Addressing Practitioner Anxiety as it Relates to Technology
By Karen Armstrong and Pamela Watkins
For many practitioners, when the topic of technology arises, the question often asked is not how do I use computers? Instead, questions focus on what resources are available and how to become proficient at using each resource. When considering career-related platforms appropriate for use with clients, the expectation does not have to be about becoming an expert in navigating numerous platforms. Rather, the goal is to establish an effective approach to identifying and evaluating reputable online resources, then implementing steps that can be modeled for our clients.

Anxiety and Daily Life
In order to become increasingly comfortable with exploring various online resources, practitioners must first address personal anxiety related to technology and work diligently to incorporate new technologies into their daily routine. When considering the potential learning experience that practitioners engage in while exploring resources, the aim is not to maintain a constant level of expertise for using an exorbitant number of resources. Instead, the goal is to demonstrate a willing attitude when exploring and evaluating relevant technologies which can translate to making clients aware of resources and to increasing their skill level in exploring technologies in the workplace.

Understanding the impact of counselor anxieties was examined by Marty Jencius and Susan Paez in their article "Converting Counselor Luddites: Winning Over Technology-Resistant Counselors" (2003). Having a willing attitude when exploring online platforms will go a long way to alleviate anxieties around identifying new, quality career-related resources and learning how to use them. Practitioner attitude becomes increasingly helpful when orienting and guiding clients who require additional support to ease their technology related anxieties when engaging with online platforms. Below is a graphic that we have built to display how awareness moves up through education to confident use.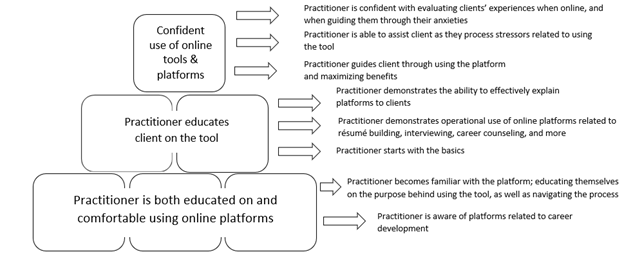 When working from the foundation up, a practitioner must first become aware of supportive online platforms, educated on how the identified platforms are used, and informed on how each will address their clients' needs.

To become aware of various online resources there are multiple tools available including professional associations, colleagues, mentors, and mentees. Professionals often seek guidance from one another when facing a challenging situation with a client. The same approach can be used when learning new technology. By simply asking what online resources others are using and for pointers on navigating the platform, we open ourselves up to a vast amount of feedback.

Once a new resource is identified, questions tend to center around confirming that the resource is linked to a reputable provider. At this stage, it is important for you to establish a method for evaluating resources' legitimacy and practicality. As you grow your process for evaluating resources, anxiety related to being in the novice role can be alleviated by expressing an attitude of learning and exploration. Coupling that with reaching out to other practitioners who you are comfortable collaborating with can lead to exciting discoveries. In addition, you may be pleasantly surprised about the knowledge you gain from simply creating a profile (when required) and exploring a new platform. Keep in mind though, when first learning how to use the platform you may not be as familiar as you would like to be. It is important to gain first-hand experience to understand the platform's functionality so that you may later walk clients through using it. Another tip to overcoming anxiety is to plan for complications when engaging a new platform (i.e., have a back-up plan ready) or regularly review the platform's website to learn about updates. As you achieve efficacy in using new platforms you will gain confidence when suggesting new career-development related online resources to peers, graduate students, and clients.

In the article "Delivering Career Resources Virtually," Arasteh (2017) provides readers with a brief list of reputable resources to save search time and to prevent the need for independently determining high-quality resources:
Connect with your colleagues, graduate students, mentees and relevant departments, such as Human Resources, to learn more about the platforms being used
Search the Better Business Bureau for company complaints
Utilize professional associations and peruse resources available
Test out potential resources' sites to check if you get spam emails, must pay for services, or if there is substandard quality
Type into a search engine the name of resource + complaints.
Once an effective approach is built for evaluating online resources, you will move toward becoming an increasingly skilled practitioner and self-reliant when exploring new resources. Then by simply testing out resources you will become knowledgeable on the process of creating accounts, any cost associated with using a platform, and issues related to excessive emails or potential spam, which will allow you to provide increasingly accurate feedback to clients.

The Importance of Modeling a Positive Attitude Toward Technology
Modeling an effective approach to exploring online resources and best practices with clients often proves more beneficial than simply giving them a list of available resources. Clients may struggle with mastering new skills related to identifying reputable resources in an ever changing, technologically advancing world. As practitioners, it behooves us to assist clients in establishing effective procedures for identifying new resources, paired with a proficient evaluation process. Becoming increasingly confident in our ability to assist clients as they navigate various professional online platforms, we are modeling a positive attitude toward technology. Rather than focus on being the expert of multiple platforms, practitioners are encouraged to establish an attitude of learning. When practitioners model a willingness to explore and learn, demonstrated behaviors will often go a long way toward alleviating clients' anxieties related to learning how to navigate and effectively use online tools. This can be a fun and exciting time for both practitioners and clients!

References
Arasteh, S. (2017). Delivering career services virtually. Career Planning and Adult Development Journal, 33(1), 42.

Jencius, M. & Susan Paez (2003). Converting counselor luddites: Winning over technology-resistant counselors. Cyber Counseling and Cyber Learning: An Encore. Retrieved from https://files.eric.ed.gov/fulltext/ED481134.pdf
---
Karen Armstrong earned a master's degree in Community Counseling from the University of Bridgeport and is currently a career counselor at Pennsylvania State University, World Campus. As a counselor for Pennsylvania State University virtual campus, she has extensive experience addressing tech related anxiety. Karen can be reached at kra@psu.edu

Pamela Watkins earned her master's degree from Florida State University and is currently a Career Development Advisor at Palm Beach State College. With a background in counseling and advising, she has extensive experience engaging clients with online platforms while building their skill level and confidence when using online resources. Pamela can be reached at watkinsp@palmbeachstate.edu
---